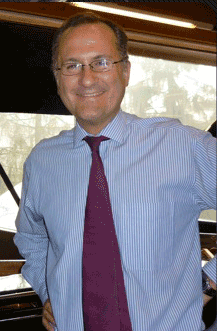 « My everyday passion for the piano was passed down to me by a lineage of shrewd entrepreneurs and by my mother, a concert pianist. That is what supports me today in facing my everyday challenges as the leader of such a great company.
For the past 150 years, our Company has been committed to assisting all pianists, at home or on stage, in the simplest possible way with the professionalism that has made our reputation strong.
I believe that playing the piano is a pleasure that supports cultural awareness and leads to experiencing musical happiness. I am enthused by the idea that little hands today will become the great musician hands of tomorrow. I dream of a world where all musical styles would coexist side by side for everyone's greatest pleasure. I am deeply convinced that the arrival of a piano into a family, a school, or on a stage should be an exciting event.
This is why my team and myself are ready to welcome you with great pleasure in our Luxembourg City showroom which is entirely dedicated to pianos and accordions: the Company has been part of the French Hanlet Group since 2007, and the harmony and cooperation between our two entities is complete.»

Franck Hanlet
Director